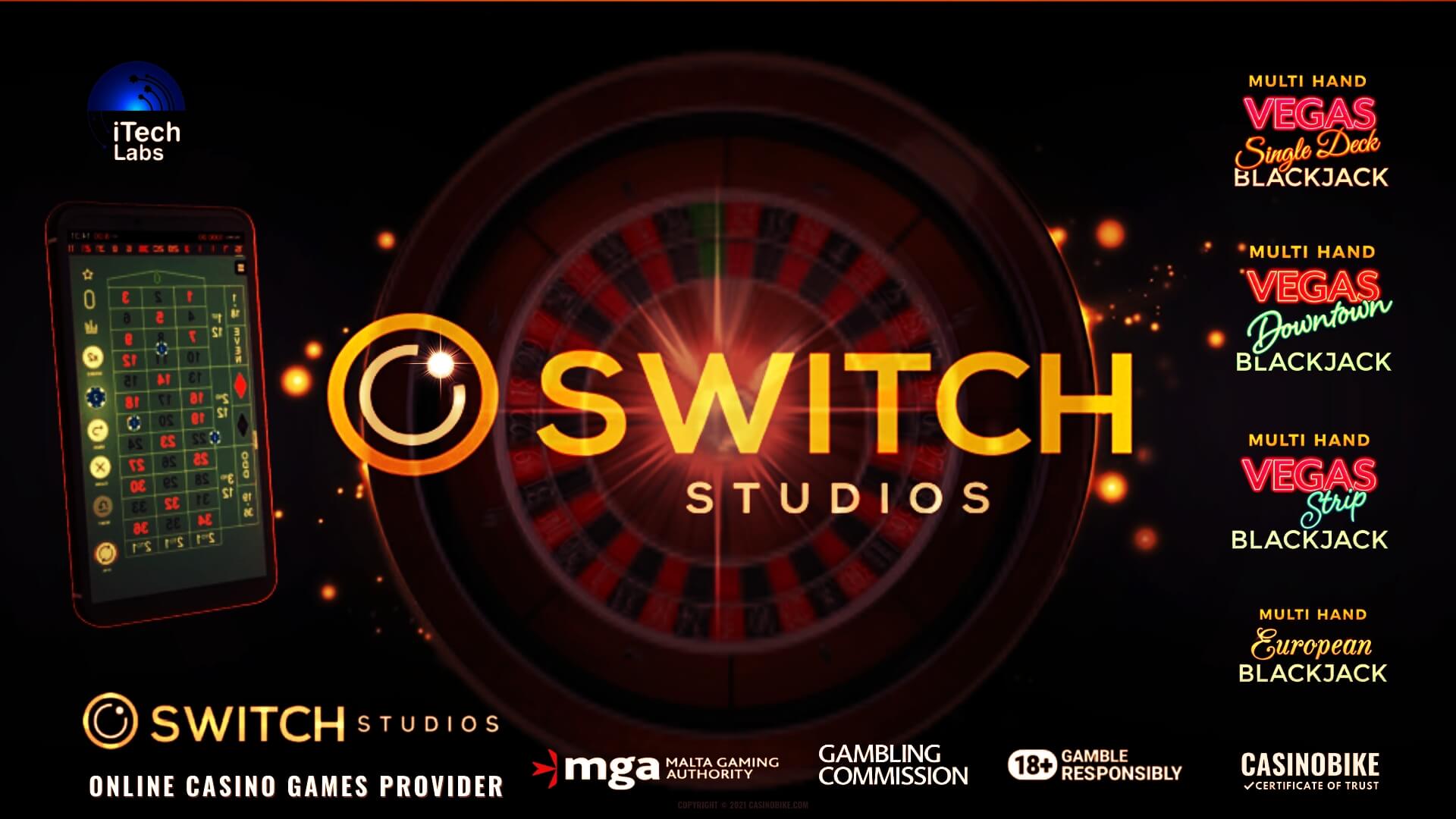 The Best Switch Studios Online Casino Games to Play
Switch Studios is an online casino games developer that was launched in late 2017.Head office is located in the heart of Ipswich, a market town located about an hour east of London, England. The name "Switch" pays homage to this town, which is affectionately known as "The Switch" among locals. Switch Studios is the company that is part of the industry giant iGambling the company Microgaming. Like other small game developers associated with Microgaming, there is not much information about the public domain and about the structure of Switch Studios.
But it can be understood that Switch Studios is a team that consists of very talented people who have a great knowledge and experience in the real money online gambling and social gaming sectors with a focus on traditional casino table games such as roulette and blackjack. Switch Studios develops custom game engines and content exclusively for Microgaming online casino sites.
Top Switch Studios Games
Switch Studios first release was a roulette game based on a random number generator (RNG) with advanced 3D rendered ball and table physics. In this online roulette game, a dynamic ball operation and an excellent and very realistic betting experience were achieved.
Compared to Microgaming previous games, the new version of online roulette features a new, different and more advanced game engine. In addition, several components of the game will be customized so that casino operators would be able to present the game as a unique offering in their table games collection.
Same game engine – different mathematical calculations
And the other game is American roulette shares the same game engine as traditional roulette. But in deference to the previous roulette game, in online American roulette the mathematical calculations are different with the addition of a second green zero.
These two online roulette games are configured with a betting range of $0.25 to $125 per spin. The maximum win in traditional online roulette is 64,500 with an RTP of 97.30%. And for American roulette the maximum winnings are 71,625 with an RTP of 94.74%.
Both games are optimized for mobiles which are also played in landscape or portrait mode. The orientation change is seamless, so that players can enjoy a full view of the table and wheel while placing their bets.
The game screen adapts to any screen size or aspect ratio and the game interface is translated into 28 different languages. There are also other features such as autoplay and statistics of section played.
Switch Studios Online Casinos
Switch Studios casinos are those where games are offered under the Microgaming brand. The Microgaming game provider has one of the widest assortments of online slots in the online gambling industry. In addition to a wide range of video slots and progressive jackpot slots, Microgaming casinos also offer a multitude of table games, video poker games and specialty games such as scratch cards and arcade games to suit everyone's taste and budget. Visiting a Microgaming casino always means a wide variety of choices, so no matter which online casino you eventually sign up with, you will always have plenty of high quality online casino games to choose from. The good news is that you can find all Switch Studios (Microgaming) online casinos on this page: just choose your favorites and that's it.
Top 10 Switch Studios Casinos
New table games from Microgaming
Over the years, Microgaming has launched many new table games, and has also incorporated several developers dedicated to renewing these casino games. Microgaming strategy has also shifted to new games that bring something new and exciting to the provider collection of games.
Admittedly, Microgaming table games, past and present, have set the standard for high quality game play. With outstanding features such as mood-altering music, dynamic game sounds, realistic ball movement, Microgaming has been capturing the attention of thousands of casino players who love table games.
However in an industry of fierce competition and constant changes, Microgaming started to lose its leadership and therefore has decided that it is time for the company to regain it. The set of new animated table games, such as baccarat, craps and house poker and other card games, will help Microgaming recapture its glorious successes from new.
Table games adapted to different markets
The big casino game providers know that each online casino is unique in terms of geographic player base and theme. Microgaming plans to work closely with casino operators to create tailored dynamic content with the help of its partners such as Switch Studios, in order to appeal to particular groups of players and offer them unique games not found anywhere else.
The Microgaming company strives to offer the best in online gambling, therefore it is to be expected that more new generation casino table games will be released periodically.
Switch Studios adds to large list of studio partners
Prior to adding Switch Studios to its list of partners, Microgaming had already announced several game development studios providing exclusive slot games to the Isle of Man online gambling pioneer.
Companies joining before Switch Studios, such as Fortune Factory, Slingshot, Stormcraft and Triple Edge Studios had already released one or more games under the Microgaming brand. Often, after one of their games debuted at major trade shows such as ICE Totally Gaming, partnerships are announced. For example Switch Studios online roulette game was unveiled in late November 2018 at SiGMA in Malta.
The small studio Triple Edge debuted with Playboy Gold slot game. The other developer Stormcraft made itself known to the world through the launch of Fortunium, the innovative online slot with the mobile player in mind, providing a premium user experience for those who prefer to play in portrait mode and with a game mechanic that focuses on stacked symbols. Other games such as Mega Moolah and Immortal Romance are also among the half-dozen titles credited to the Stormcraft studio.
Slingshot Studios inaugural game, Cash of Kingdoms was first seen at ICE Totally Gaming 2018. And finally, developer Fortune Factory Studios located in the city Escondido in California, USA launched its online slot game Romanov Riches at the end of 2018.
Overview
Switch Studios is still a very young game developer. One can understand their desire to grow quickly and become recognizable in the iGambling industry. But things have to be done with patience.
As more and more game development studios appear and bring their creations to the online casino industry space, we will always encounter different business models. This is not a reproach, some game providers often release new themes for their older online games just to keep the numbers ahead of the game, so it is an under appreciated tradition for online casino players.
We don't think this will happen with Switch Studios, the partner of Microgaming "The Godfather" of online slots entering the new table games market with its other talented partners providing innovative custom solutions for online casino partners.
CasinoBike.com is proud to be part of the Switch Studios success story and we are pleased to offer all of Switch online table games for free. If you want to play blackjack or roulette for real money, you can do so at one of the Microgaming Casinos ↑ where you will enjoy your free time and win extra cash. We strongly recommend you to try these games right now; playing Switch Studios table games will impress you a lot!