Guide of tips and tricks to play and win at online slots. It's no wonder that with so many features, bright lights and moving parts, more and more players want to know how to play online slots. It's clear that it's not that hard to just spin and go. However, there are few players who know about the software inside their favorite online slot machine. In this guide of tips and tricks you will learn the basic rules of online slots, how they pay out and how the most popular features of online video slot machines work.
Guide of tips and tricks to play and win at online slots
It's no wonder that with so many features, bright lights and moving parts, more and more players want to know how to play online slots. It's clear that it's not that hard to just spin and go. However, there are few players who know about the software inside their favorite online slot machine. In this guide of tips and tricks you will learn the basic rules of online slots, how they pay out and how the most popular features of online video slot machines work.
5 steps to start playing online slot machines
If you have never played a slot machine in your life and you have 10 seconds of your valuable time, here are 5 steps to start playing online slots.
What are slot machines?
An online slot machine is a game of chance that uses reels and symbols. They get their name because the first slot machines in land-based casinos were played by placing a coin in the slot. Players inserted their coin or token, pulled a lever and spun the reels. If the symbols on the center line matched, then they won a prize. Early slots used only 3 or 4 symbols and each had a different value. Modern online video slots now use 10 or more symbols, which makes them visually exciting and also offers a wider range of payouts.
Why are online slots so popular?
Slot machines are very popular not only in Las Vegas casinos, but also in the best online casinos. According to statistics, more people play slots than any other casino game. For novice players, the repetitive sounds and flashing lights may seem like madness. However, millions of players around the world love to play slots for several other reasons:
Incredible amount of options.
Attractive graphics and design.
Small stakes, but big wins.
Slot machines have been around since the late 19th century and have long since become a staple in bars and pubs in many countries. But thanks to incredible technological advances, they are now on mobile devices and you can carry your favorite online slots game in your pocket anywhere you go.
What can you win?
Despite the sleek graphics and gameplay, what online slots players care most about is the payout potential and the nifty path to cash prizes.
Online slots have a maximum multiplier per symbol. But you can win more than one payline on the same spin and also a maximum total winnings per game. This number is usually set by the online casino, in order to manage its responsibilities.
Usually the standard for modern online slots is the maximum payout of 5,000x seen in online casino slot game Book of Dead by Play'n Go. At the higher end of the payout range you will find games like Starburst with a maximum payout of 50,000x per line, and online progressive jackpot slots with millions of dollars in prize money.
Top 10 Real Money Online Casinos
The paytable
To find out what prizes you can win and how to win them in an online slot machine, the paytable is the place to look. Some paytable show you the prizes in coins, while others use a cash figure based on the value of the coin you have chosen.
For example, the paytable for the legendary Gonzo's Quest online slot shows you how many coins you will win if you land 3 or more symbols on a payline. However, just knowing what you can win if you match 5 cherries is not everything, you also have to know how the prizes are awarded. Specific terms such as RTP, volatility and hit frequency are the software settings you need to know to better understand the process of how an online slot machine decides who wins, how often and how much.
How online slots work
Online slots are a fusion of good looks and computer programming code. The look may appeal to players, however it is the software that creates the mystery of big wins.
There are so many different tastes of slot players that online casinos need different slot experiences to suit. Some are like lotteries, with a small, life-changing chance of winning. Others offer non-stop action, but the trade-off is low prize amounts.
For some casino players, the house edge is the most important factor in choosing an online slot machine. In general, online slots usually have a house edge of 4-5%, although players call it something else – the RTP. The return to player (RTP) is the inverse of the house edge. If the house keeps 5%, then the RTP is 95%.
The way online slots RTP works is not very different from the online roulette payout model. The developers create a set of rules that produce a series of random wins of different sizes, all of which add up to less than what the online slot machine player has wagered.
Most online slot machines have an RTP of around 96%. This puts online slots on par with online roulette and table games such as Caribbean Stud. This means that if you bet $100,000 on a large number of spins, you should expect to win back $96,000. In other words, you would lose about $4,000 on a game with a 4% house edge.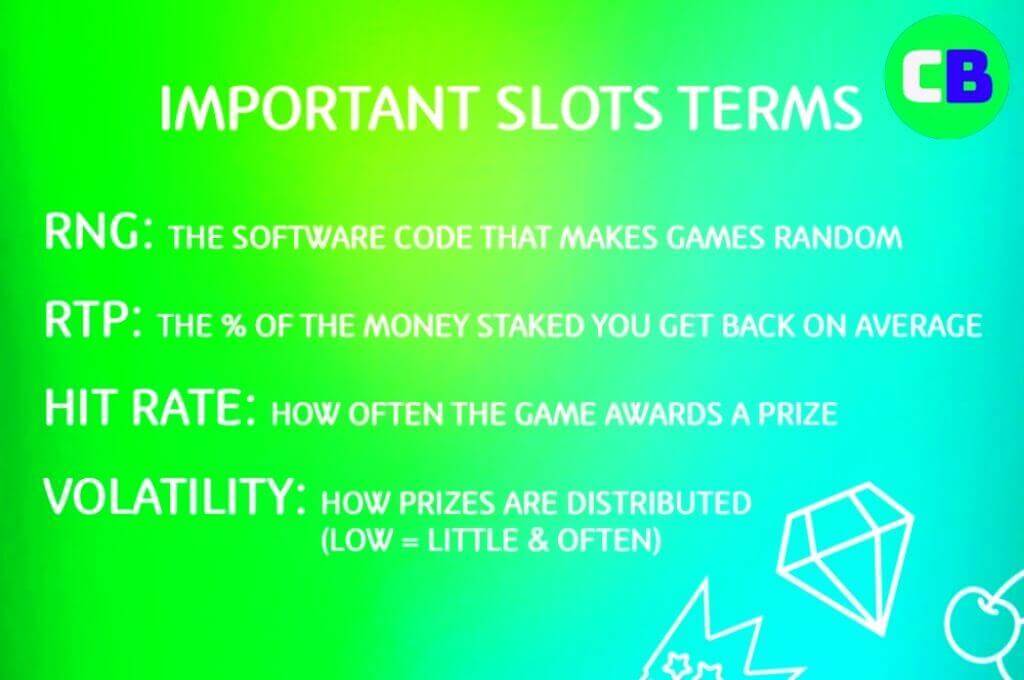 Another factor is the hit frequency which affects the number of spins it takes on average before a winning combination or bonus is achieved. Apart from RTP, online slot players are more interested in the volatility of an online slot. If you always dream big and have your eye on the jackpot, choose the high volatile online slot. Using all these factors, online slot developers create each online slot game with its own payout personality. All these factors should be taken into account when choosing which online slots to play.
How to increase the chances of winning at online slot machines?
This is the million dollar question! But the answer is $1. Online slots are pure luck, so there is no in-game strategy you can use to increase your chances of winning. However, if you choose games with higher hit percentages and lower volatility, and make sure you get the best online casino offer when you play, then you can be in a position to play longer, bet sensibly and increase your chances of making big wins.
There are many myths about how to change the odds of winning on the old physical fruit machines in bars (and we've never found any that were true!). But when you play online slots there is no way to improve your odds. You can only improve the probability of hitting a winning spin on your next session by literally playing more spins, because more spins equals more chances of winning.
However, that doesn't change your odds of winning on a single spin, nor does it give you a better chance of a bigger win. More importantly, it will cost you more money. We do not recommend you to play more spins or change your bet, because it makes no difference and it is not a sensible game. The only way you can personally influence the possible winnings is by choosing online slots with higher RTP. You may not yet see the impact of that on a small bet, but at least by choosing a slot with an RTP of 97% instead of 95%, you will have better mathematical odds on your side.
How to choose the right online slot machine to play?
With thousands of games to choose from, you might wonder. How do you find an online slot machine that best delivers the kind of excitement and gaming experience? You may be a fan of a particular game developer or theme such as Irish or Asian online slots. But if not, here's another way to choose the right slot machine for you. Ask these questions and use the answers to decide which online slots fit your player profile.
Once you know more, you can look for some of the following words or phrases in the online slots descriptions or in the CasinoBike.com game reviews:
High, medium or low volatility
Progressive jackpot
High multipliers
MegaWays™
Cluster
Popular
Here's how to navigate the almost infinite stars of the online slots universe – now let's see how to play them!
How to play online slots
Despite all their rules and features, online slots are one of the easiest online casino games to play. Many modern online slots have been simplified so much that all you have to do is choose your bet per spin and play. For example, Dynamite Riches online slot from Red Tiger Gaming. Choose your bet, match 3 symbols on a win line and get paid, it's that easy. But the choice of bet is not always so easy, and it makes a real difference in calculating winnings.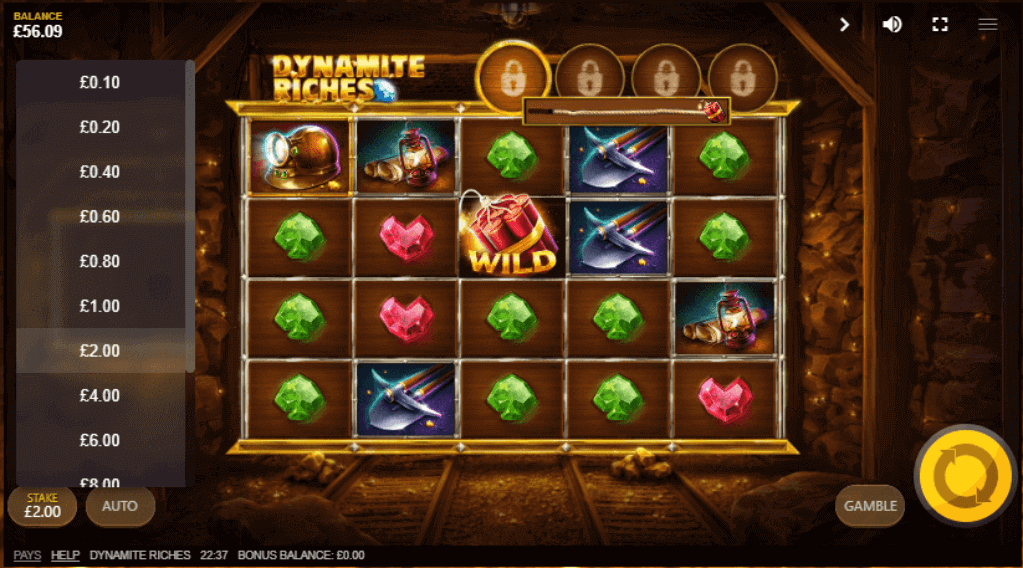 How to place the bet in the online slot machine
Before you hit the spin button on the online slot machine, you will have to choose some important settings:
How many paylines to play?
How many coins per line?
What coin value?
All of them influence the total size of your bet and the amount of coins per line. These figures are used to calculate winnings. For example, in Wolf Gold online slot from Pragmatic Play with 25 fixed paylines, but you can change the total bet amount, as well as the coins and coin value.
Obviously, when you change the number of paylines you wish to play you will have a big impact on the frequency with which you win, and on the extent of your bankroll. Betting more coins per line or increasing the value of higher value coins does not change your odds of winning. They are simply a way to set your bet so that you play at a level that you can play safely.
Autoplay
The autoplay feature is quite useful, as it frees you from doing the repetitive keystrokes, if you play online slots a lot. Most regular online slots players will use the autoplay feature to play at least 100 spins in automatic mode. Just set the number of spins you want to play, sit back and enjoy the show. You can create rules that will interrupt the autoplay, such as win or loss limits, or when if bonuses are triggered.
How to win at online slots
Almost all online slots use the same set of rules that determine how a win is awarded. They are usually as follows:
Get 3 or more matching symbols.
On the same payline.
From left to right.
Starting from the first reel.
The first two spots are easy. Get 3 or more matching symbols on a win line – some online slots have 5, 3 or even just 1 win line, while others have 10, 20, 100 or over 100,000! Luckily, the game will do the work for you and automatically display a winning line. As an example, Holmes & the Stolen Stones is a typical 20 payline online slot from Yggdrasil Gaming that explains the different possible winning line combinations. Notice that the paylines always start with the leftmost reel. To win, you will need the same symbol on at least reels 1, 2 and 3 with no spaces between them.
However, there are some exceptions to these rules. There are some online slots that pay both ways, so you can make winning combinations from right to left. There are also online slots that do not use paylines. In "cluster pays" slots, such as Golden Ticket 2, you need 5 or more matching symbols in a cluster, which means that the symbols must be connected vertically or horizontally. In slots with the MegaWays feature, winning combinations must start from the first reel, but symbols can be in any row.
Features of online slots
Today's online slots have 2 or more bonus features that give the game more depth, create the possibility of bigger wins and sometimes even add an interactive game element. While this is by no means a complete list, here are the main slot features you'll find and how they work.
Paylines
They're not really a bonus or gameplay feature, but along with the number of reels and rows, paylines are the most important feature of any slot. The average online slot machine has between 10 and 20 paylines, but the race to add more reels and paylines has led to some very interesting inventions and innovations.
Online slots with MegaWays, the special reel mechanics that produce over 100,000 possible winning line combinations. These games generate a random number of symbols on each reel of 2 and 7, and the symbols only have to appear on adjacent reels.
However, more paylines do not guarantee more fun, and some of the most popular online slots have simple game mechanics and features. Starburst is the #1 online slot in the world and has only 10 paylines. Sometimes it's what you do with the paylines that counts.
Wilds
Everyone knows what a joker does in card games, and the same goes for online slots. Virtually all online slots have a wild symbol. The wild symbol substitutes for all other symbols except the scatter.
A wild symbol can pretend to be any other symbol, and they are very useful when it comes to making winning combinations. The only time the wild symbol cannot be used is with special scatter symbols that trigger bonus games.
In recent years, we have seen some impressive mutations of the classic wild symbol. There are stacked wilds, sticky wilds that stay in place for future spins, expanding wilds that fill the entire reel, and many more.
Scatters and free spins
If you're designing a modern online slot machine, wilds are an essential feature, but free spins are not far behind. Online slot developers had to come up with a way for players to access the bonus games, and so the scatter was born.
A scatter is a symbol that is used to activate a bonus, feature or mini-game. Generally, it is necessary to get 3 or more scatter symbols anywhere on the reels. The standard approach is to award 10 Free Spins if you get 3 scatters. Some games award more free spins for each additional scatter.
Once you have activated the free spins game, the online slot machine will automatically replay your spins and count the total winnings during the round. Online slots usually save their best graphics for these Free Spins rounds, and they are also an opportunity for developers to introduce more special features. The more exciting and rare the Free Spins bonus is, the more time players will spend trying to trigger it.
Progressive Jackpots
When you play an online slot game with a progressive jackpot, a small percentage (often as little as 1%) contributes to a jackpot that keeps growing until someone wins it. Then a "starting" amount funded by the casino is reset. Online casinos have been using player-funded progressive jackpots in many types of games for decades, but online slots are the perfect vehicle. Internet gambling is a form of entertainment without borders and players from all over the world can create massive jackpots in days, if not months.
There is no single way to win a progressive jackpot. It is best to check the rules of the game before playing. Most involve some sort of random prize, and some require a minimum number of coins to be played in order to qualify. By their nature, progressive jackpots increase volatility, taking a little bit of each to pay out a huge prize.
This is how records are broken and millionaires are made, but you should also be aware that the trade-off for playing for millions is a slightly worse payout pattern for the rest of the game. Understanding this relationship is an important lesson in learning how to win playing online slots.
We have moved very quickly from online slots with their own jackpots to collections of online slots that feed off the same jackpot, and even to a developer's entire portfolio of games in which all of their games share the same jackpot. You may not get the best RTPs, but the appeal of online slots with progressive jackpots is obvious.
Multipliers
An online slot multiplier is a simple but exciting way to create the possibility of winning a lot more, usually during a bonus game. Multipliers of 2x or more can appear randomly on the reels, and if they are part of a winning combination, the paytable win is multiplied.
Reel Modifiers
This is a category of online slot bonus features that involves changing the existing symbols on the reels to create wins. Mystery symbols fill the reels with random symbols, while symbol swaps can reduce the number of possible symbols, increasing the chances of winning. Other modifiers involve adding wilds or multipliers to the reels, or increasing the size of symbols to cover more reels.
Cascading reels AKA Avalanche
If you've ever played Gonzo's Quest online slot from NetEnt, you'll know how much fun a chain reaction feature can be. In slot terms, any symbol involved in a winning combination will disappear, leaving the symbols above to fall. If the new configuration creates a win, the chain continues and wins accumulate, all from the first spin.
Overview
With the ultimate guide to online slots you now know how to choose from thousands of slots, and how to play for maximum fun and the best chance of success. It's time to go spin and win! Check out our recommended online casinos ↑ and choose one to try the online slots mentioned in this guide. Remember that playing online slots for real money is just for fun and responsibly and should not be the only way to earn a living.
How to Play Online Slots – Frequently Asked Questions
How do you win at online slot machines?
There are two answers to this question. First, the literal interpretation. Get 3 or more symbols on a win line. Now, the reason most players ask this question, how do you win at online slots? Well, with a 3-5% house edge, you are unlikely to win at online slots in the long run. There is no online slot machine strategy that can provide a steady profit. But with a little luck, anyone can make a good short-term play and come out a winner.
How do online slots work?
Online slots work with a computer program that produces a series of possible wins and losses using a random number generator. Online slots have a set payout percentage that they are designed to offer over a large number of spins.
Can you tell if an online slot machine is about to pay out?
Online slot machines are random by design and it is impossible to predict when they will pay out. Even if you know that an online slot machine has recently paid out a large sum to another player (or even to you), that does not mean that it will stop paying out for a while, because online slot machine payout rates are calculated over millions of spins.